Hello everyone! (My greetings are so lame I know right)
So, I just can't believe how it's already the last day of July. It feels like time passed in one day since March. Anyone feeling the same?
I'm totally NOT a summer person. I can't stand the heat, sweat, working while everyone else is at the beach enjoying their day, swimming, eating ice cream, sunbathing...
Okay enough. I'm getting jealous.
So, this post is about my favourites of the month of July, 2018.
Haven't done much shopping this month, I was mostly at work or at home sleeping and chilling.. Also, at the first weekend of July I went at St. Ioannis, a resort town in Pelion Mountain (the weather was bad though), and last weekend I went at my cottage house in Kalamos, Pelion. I'm afraid that those two weekends will be my only vacation this year lol.
So, let's start with my favourites, shall we?
So first of all we have this awesome summery eyeshadow pallete by Dust & Cream Cosmetics!
It's from the makeup line "Dust & Cream: Through the Prism". I love the four colours on the left of the pallete, especially the sandy brown and the salmon one!
I do not wear the blue colours though, I do not believe that blue eyeshadows compliment my eyes. I'm going with a natural eye make up most of the times.
If you want to get the "Dust & Cream: Through the Prism" eyeshadow pallete you can visit the officially
Dust&Cream Online Store
.
Next on make up is this wonderful kissproof liquid lipstick, accompanied by this lipliner of about the same colour by Golden Rose. This lipstick is like a tattoo. I can wear it all day, eat, drink ect and when I'm back home I'll still have lipstick on my lips. Golden Rose has the best kissproof lipsticks so far I believe. I have like 3 of the kissproof line.
This colour is the No 17 and you can find it online at the
Londessa S.A
website , and the lipliner pencil is the No 523 and you can also find it at the
Londessa S.A.
Moving on I have a book that keeps my sanity in normal levels. For real.
I'm a huge bookwork, and I usually read fiction books, until this spiritual book arrived in my hands.
It's by Rebecca Campbell, and it's the "Light is the New Black", and as Rebecca says, it's a is a guidebook for a new breed of women who are here to be bright lights in the world - modern-day lightworks who agreed to be here at this time in history. In order to thrive in this new age, everything we do must. Be an authentic expression of who we truly are. You can order it online at
Rebecca's officially website
or you can find it at your local bookstore.
Last item I have to show you is this fitness tracker. It's the Xiaomi Mi Band 2.
I ordered it on May, got it 4 days later, and I haven't removed it from my wrist since then (only when I shower and charge it). It's really cheap compared to other fitness trackers and bands with the same features. Also, it's life battery lasts about 10 days, depending on the usage of course (It can last up to 20days max). Also, it's measurements are really accurate and I recommend into wearing it on the opposite hand of the one you use to write ect. Last, it's a Star product at the official XiaoMi Website. You can learn more about it at the
official Xiaomi Website
.
Now, for the non-material things, I have few more favourites to tell you...
First of all, it's the GIRL BOSS Spotify playlist that I made and I listen to it every single morning when I wake up for motivation:
Also a TV series that I watched a lot in July is
Criminal Minds Season 10 on FOX
. I think I'm in love with Spencer Reid ♥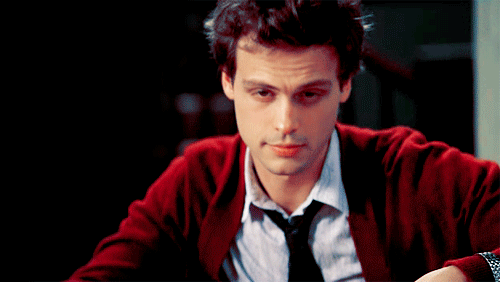 JUST. LOOK. AT. HIM.
So that was it! I hope you enjoyed my favourites of the month of July! 1 month left and then autumn startes finally (and my birthday month too ;) )
I'd love to hear about your favourites of July at the comments!
Until next time,
xoxo Foteini
♥